>> Tuesday, September 28, 2010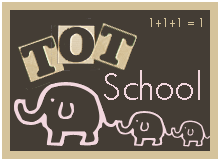 (Nudgie is 26 months old)
(EDIT: My laptop crashed again this past Thursday! So while I did have most of this post written, I wasn't able to complete it since my photos and other information for this post was on my laptop. Hubby has graciously loaned me his until I get my new computer (courtesy of Toshiba and the warranty we purchased when we bought the computer!) In the meantime, here's a few things we did do this past week!
**************************************************
It was so nice to get back into a schedule this past week! Since I've started Tot School with Nudgie, I've learned quite a bit about Nudgie's learning style, what works and what doesn't. And I've rethought a lot of my activities with Nudgie as well. In my exuberence for Tot School, I found that I was just doing too much and it was too overwhelming for Nudgie -- and for me. So my new philosophy? KISS it! Keep It Simple Stupid!
And this week, I think I succeeded!
This week our theme was Apples and the letter C.
For our "C" theme, I printed a template of the letter C from the
DLTK website
and made two felt letters with pink camoflauge felt.
(Get it? "C" - camoflauge?)
I printed out a couple extra pages for other activities - coloring, stamping, etc.
Nudgie, right away, took the felt letters and put them on to one of the printed "C" pages.
When she got bored with that, we pulled out the colored blocks that we found in Target's dollar bins. The smaller wood blocks I found at a garage sale -- a bag of 100 for .50!
She then spotted her crayons and wanted to "co-wer".
Over the weekend, I made
(with My Marine's help)
Nudgie a Spinny Speller game - thanks to an inspiration from
Counting Coconuts
. I'm really happy with how it turned out and Nudgie really enjoyed looking for the letters as I called them out to her - eventually spelling out small words.
We had snacks of craisins, cinnamon Chex, cookie, cheese sandwiches in the shape the letter "C" and chips.
I also kept her trays the same this week. Her trays had Weebles, bean play, lacing, and her bottle cap letters. After reading some other posts from moms about lacing activities, I decided to try lacing with pipe cleaners. And it worked! Nudgie had a much easier time with the pipe cleaners than with the string.
Have a great week everyone!