>> Sunday, January 23, 2011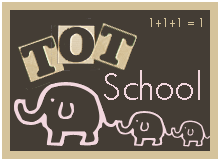 (Nudgie is 30 months old)
(To see what others are doing at Tot School, click on the "Tot School" above!)
**************************************
This past week we really got back into the swing of things! We're still working on a winter theme, but starting in February, we'll get back into a more structured curriculum of letters, numbers, and shapes.
We're still trying to decide whether or not to send Nudgie to preschool this fall, but I know that if we don't, I'll probably still be prepared to work with her here at home!
Nudgie's trays this week included:
Her piggy bank pig. She loved putting the coins in over and over and then dumping them out. Every time she'd put them in, I'd say the color of the coin and she'd repeat it after me.
Her Candyland game. Here, we also repeated the name and color of the shapes. She's got "star" and "triangle" down pretty good. Now we're working on "square" and "oval"
Her Leap Frog letter recognition toy. She had more fun pushing the button to hear the alphabet song over and over rather than listen to the sound the letters make.
We also had her sensory bin available, but she didn't play with that too much. I also put out her Melissa & Doug cookie set. We didn't play with it during the week, but she did "make cookies" for daddy on Saturday while Nani and I were at ballet class. (Daddy didn't get any pictures though!)
I did catch her playing quietly with her dolls too.
She colored and played with her princess magnet doll.
She pulled out her Cheerios book again and used the little white pom-poms to fill in the spaces.
We learned about mittens. We colored and decorated a pair of mittens. And we played a mitten match game.
(For the life of me, I can't find the file where I got this from, but please know that this is not my own creation!)
We learned about snowflakes!
The snowflake printable came from
Musings of Me
We ended our week playing an Alphabet Bingo game with big sister!
(I downloaded the game from
Teach Mama
)
Hope everyone has a great week!