>> Monday, January 31, 2011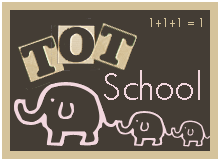 (Nudgie is 30 months old)
(To see what others are doing at Tot School, click on the "Tot School" above!)
**************************************
This past week was a bit of a lighter week. I was in a bit of a reorganization mode this past week, so we did activities that were quick and easy to do -- but yet, still fun!
Nudgie's trays this week included:
Her Fisher-Price write & stamp tray. This was actually Nani's and Nudgie recently inherited it. I wanted to start her on the concept of "writing", so we pulled this out a few times. I'd write some letters and she'd try to trace them with either the attached pen or by using one of the stamps. We traced her hand and she even tried to trace mine too.
She played with her dolls again this week too. (I got the Disney Princess dolls at the Dollar Tree!)
We played "vet doctor" with her doctor kit and her stuffed dog "Belly"
All better!
We read some books........
We did marble painting with Nani......
We did homework just like big sister! (The worksheets were provided by
Musings of Me
.)
Nani also wanted to help "teach" her baby sister her numbers, so we pulled out this awesome number puzzle that I found at our local ARC store for $1.50!
****************************************************
Hope everyone has a great week!