>> Monday, October 11, 2010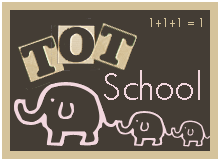 (Nudgie is 26 months old)
Well, the past two weeks have been interesting. Since I didn't have my laptop, I didn't get to do as much with Tot School as I wanted since most of my files were on my computer. And then my daddy came to visit and we were having lots of fun with Grandpap! So, with the few activities we did do, I decided to combine two weeks into one post.
****************************************************
I've decided to keep a fall theme through Thanksgiving, trying to do some fun, fall activities every week.
One theme we did was apples. Everything was apples! Snacks, stories, activities. I don't have too many pictures of the other things we did, but a favorite was the apple painting. Nudgie had a ball with this one! And when Nani came home from school, she had to get into the fun too!
The next week, our theme was pumpkins! (This one is my favorite, so I think we're going to be repeating it!) Thanks to an idea from
1+1+1=1
, we decided to make this little fall scene. I pulled out some cardboard sheets from a box, some gift wrap rolls, toilet paper rolls, an egg carton and a drink carrier from McDonald's.
The girls painted the cardboard and rolls brown. I cut the egg carton and drink carrier into separate pieces and then the girls painted them orange for their pumpkins. Nudgie had a little help from Grandpap!
After the paint dried, then we glued the leaves on the branches.
And viola! The finished products!
We also worked on the letter "P". Nudgie had lots of fun using her pumpkin stickers on her letter P pages.
Confessions of a Homeschooler
)
Her favorite activity (after painting) was counting out pumpkins. I found these cute magnetic pictures frames at Office Depot on clearance for $1. I bought a couple in different colors and put them on Nudgie's magnet board. We practiced counting out pumpkins and putting them in the different frames.
Have a great week everyone!