>> Sunday, November 21, 2010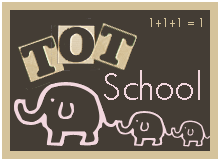 (Nudgie is 28 months old)
(To see what others are doing at Tot School, click on the "Tot School" above!)
This past week was mostly a week of free play. My Marine was on a reverse schedule at work, so he was home a good part of the week. So Nudgie had a LOT of Daddy-Nudgie time -- and mommy got a break to run some errands, grab a coffee, do a little Christmas shopping.
Daddy doesn't take pictures like mommy does, so we're a little light on photos this week. But I did manage to capture some of these moments.
Reading a Disney Princess book with big sissy!
Playing with her stacking blocks

Playing again with her sensory tub. (So happy this is a hit!)
Doing puzzles with daddy. (Pardon the laundry, it was laundry day!)

Playing peek-a-boo with daddy
This child has the balance of a gymnastic. She's standing on daddy's lap -- completely unassisted.
****************************************************
Hope everyone has a great week! And have a Happy, Blessed Thanksgiving!