>> Sunday, November 14, 2010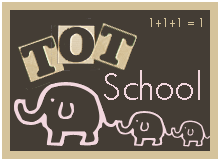 (Nudgie is 27 months old)
(To see what others are doing at Tot School, click on the "Tot School" above!)
We had a really great week here for Tot School! We continued working on the letter "C", colors, circles, and Thanksgiving.
I started the week off by rotating some of Nudgie's trays. I made a new sensory tub for her for November/Thanksgiving. I have to say that even My Marine and I have enjoyed a few minutes here and there digging through it! There's something very "zen" about it!
I also took some of the leftover Thanksgiving decorations I had and put them on a tray for her to play with. The turkey actually gobbles when you squeeze it, and later in the week we added a squirrel that chirps.
We started off the week reading "Chicka Chicka Boom Boom" and putting the "C" on our tree.
Then we read "The Clumsy Crab" and did an art project related to the story. I cut out a "C" shape out of red foam and then cut out the claws, arms, and eyes. I let Nudgie glue hers on any way she wanted -- even if it wasn't the "right" way.
You can see that Nudgie was channeling her "inner Picasso" when creating her crab!
We did dot painting....
We did circle painting
We learned our colors using this game I made for Nudgie out of recycled toilet paper rolls and clothespins.
We did a color mixing experiment after reading "Mouse Paint". This is one activity that we waited for Nani to come home from school to do. They both enjoyed mixing the colors with the paint droppers -- so much that we did this activity a couple more times that afternoon!
We finished up the week with caterpillars - making a caterpillar out of the letter "C", played a color match game with a caterpillar, and had a "caterpillar" snack!
Mommy's Favorite Moments:
Cheesing it up for the camera!
First snowfall
A quiet moment reading with sissy

****************************************************
Hope everyone has a great week!