>> Sunday, December 5, 2010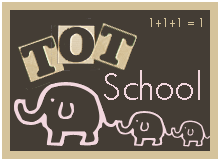 (Nudgie is 28 months old)
(To see what others are doing at Tot School, click on the "Tot School" above!)
**************************************
We're taking a break from our normal Tot School curriculum to celebrate the holidays, but we'll still be incorporating some learning activities into our holiday fun!
This week, I changed over Nudgie's trays. Nudgie helped me empty her Thanksgiving sensory tub so that we could get ready for her Christmas sensory tub!
Helping pour Thanksgiving beans into the storage container
Our Christmas sensory bin

Our Christmas sensory bin is just as fun as the Thanksgiving! I filled it with white rice and white beans. Michael's had some glitter sand on sale and I had a coupon so I bought a bag of clear glitter sand and a bag of silver glitter sand. I added some jingle bells, glitter balls, a snowman ornament and a Santa rubber ducky which Nudgie really seems to have become attached too!
And she certainly didn't waste any time digging in!
I also changed out Nudgie's flower activity. I put away the fall flowers and pulled out some Christmas floral picks that have been sitting in our Christmas storage box forever! She went right to this activity too!
As an added bonus, I also created a little Christmas village that Nudgie can play with without worrying about being told, "No - don't touch!" I found the little houses at the Dollar Tree and scooped them up right away. My only regret is that I didn't buy more! I got the little people and trees at JoAnn's. Now I just need to get some pics of Nudgie & Nani playing with them (supervised, of course)!

Our trays for the holidays! The little red gift box holds painted wooden Christmas ornaments that I attached magnets too. Nudgie can play with them on the magnet board
****************************************************
Hope everyone has a great week!