>> Sunday, February 13, 2011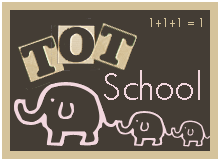 (Nudgie is 30 months old)
(To see what others are doing at Tot School, click on the "Tot School" above!)
**************************************
This past week was a bit of a lighter week. I'm still in reorganization and crafting mode, so we spent a lot of time this week coloring, playing, tickling, and watching the Muppets! I haven't changed her trays out yet either, with the exception of her sensory tub.
My camera was also acting up this week, so I don't have too many pictures to share this week. But I did manage to get a few!
New sensory tub. I found some heart-shaped rice at JoAnn's on clearance so I bought two bags. I dyed one bag red and left the other white. So far it's been a HUGE hit! Now if I can just keep Nudgie and Zoja from eating the rice, we'd be in good shape!
Valentine-Themed Sensory Tub
Making "cookies"
Eating her favorite - bagels!
One afternoon during Quiet Time, Nani made created her own book with just pictures and Sesame Street characters. The story changes every time we read it, which I love. Here - Nani's telling Nudgie a story from her book.
Coloring together
Whatcha coloring? Can I see?
Such concentration! I'm amazed at how well she's staying within the lines now!
****************************************************
Hope everyone has a great week!