>> Sunday, May 22, 2011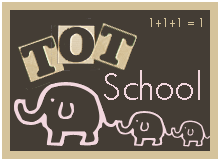 (Nudgie is 34 months old)
(To see what others are doing at Tot School, click on the "Tot School" above!)
**************************************
This week was a little bit of a mish-mosh of activities. It was just a blah week for me
(if you read my recap post, you know that I haven't been a model mommy this week....)
We've had some goofy weather this past week - rain and quick peeks of the sun before it rained again. So, we tried to get outside as much as we could when the sun was shining.
The girls played in the big lawnmower box that we had been saving for them. They sat and read books and then I told them I was going to box them up to ship to Bubbe and Grandpap!
I bought the girls some spray bottles from the Dollar Tree. I filled them up with water and some food coloring and let them have at it. Nudgie was in heaven! She was so proud of herself for figuring out how to get the water out all by herself! (I think she had more fun chasing her sister around though!)
Then I drew some circle on the driveway and wrote numbers in them. As I called out the numbers, they had to find them and squirt them. Nudgie gave up after awhile and just started squirting the ants she'd find.
When it started to rain again, we'd stay inside, read books, colors and play games. Nudgie would spend a lot of time lining up magnets on a cookie sheet. At least for this week, this was the current toy of choice -- she'd drag that thing everywhere! And when I could get the cookie sheet away from her, I gave her her raisin book with a bowl of raisins and just watched her play.
The highlight of the week was going to watch Daddy do water bucket training with the unit. I packed their little chairs in the car and stopped to get them Happy Meals. Once we got to the site, I let them sit and eat their lunch while they watched Daddy work.
Eating lunch while watching Daddy work
Daddy high in the sky
A wave from Daddy
Daddy and his cool mask!
Too loud mommy!
See you at home daddy!
So, in spite of the yucky weather and my crabby mood, it was still a pretty fun week!! Hope everyone has a great week!


****************************************************