>> Friday, September 16, 2011
Imagine my surprise when I woke up this morning to an email I'm Bloggin' telling me that I'm the featured blog on her Flutter By Friday link-up! So exciting for me!!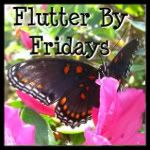 So, if you're a new visitor - welcome!!! I hope you'll stay for a little while and browse around!
Just a little about me -- I'm a SAHM to one retarded German Shepherd, named Zoja and two beautiful little girls (Nani - 6 and Nudgie - 3) who keep me on my toes every single day! I'm a military wife of almost 16 years (next month) who married her high school sweetheart. I am a God-seeking woman who is desperately trying to rediscover her walk with God. I grew up in Pittsburgh, PA and am a die-hard Steelers and Penguins fan. (And yes, I'm still a little bitter about that Super Bowl loss!) I have an addiction to craft supplies, school supplies, books, reality TV, thrift stores and Starbucks.
I called my blog The Toy Box Years for a couple reasons. One - I just LOVE this season of my life and two - there are always toys EVERYWHERE and I just feel like my home is one giant toy box!
So grab a cup of coffee, tea or whatever your poison is and stay awhile!
And don't forget to visit
I'm Bloggin'
while you're at it!!
Have a great weekend and thanks for stopping by!