>> Sunday, September 18, 2011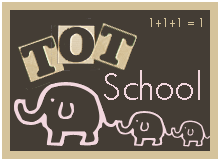 (Nudgie is 38 months old)
(To see what others are doing at Tot School, click on the "Tot School" above!)
**************************************
So, we're getting back into the swing of Tot School. I'm still trying to find the right schedule for us. Last week, it seemed like I ran errands every single day and didn't get much schooling done at all. This week, Mother Nature decided to be generous and grace us with a glimpse of cool, fall weather. So we spent a lot of time outside playing!
I did change out her Tot Trays this week, but we really didn't spend too much time on them -- we preferred being outside! So I'll keep the trays for the upcoming week.
We spent a lot of time outside playing with our number peg boards. I made these out of some scrap wood that I picked up for free at a garage sale.
(Full post on this coming soon!)
We moved her little play kitchen outside and she had a blast cooking up a storm in her outdoor kitchen!
On the one day where it did rain, we stayed inside and baked some lemon blueberry tea bread to take to a coffee playdate, read books, colored and watched a little Sesame Street.
During Nudgie's nap time, I pulled out some foam sheets and shape stickers that I had and decided to make some pattern sheets for her to work on after nap time.
My stash
Pattern sheets
Working those fine motor skills by taking off the paper from the stickers
Trying to match mommy's patterns

Mine on the left and Nudgie's on the right
So, overall, it wasn't a really busy week, but we still had fun!! Hope everyone has a great week!

****************************************************
Linking up with:
No Time for Flashcards - Link and Learn