>> Thursday, July 9, 2009
I've been laying pretty low since my girls have gotten sick. I had hoped to do a number of activities this week, but it was all I could do to get dressed and get to doctor's appointments. On Wednesday, I had Nudge at the doctor. (It's starting already -- what one sister does, the other has to do too.) Turns out that Nudge has some pretty serious grass allergies - so much so that it's starting to affect her skin. Poor thing's little tush and thighs are just covered in the most painful-looking rash. So, I made another trip to the pharmacy.... The kind pharmacist - recognizing that this is my 4th trip in two days - had slipped a frequent prescription card into my bag. This lovely piece of plastic gives me additional discounts on my prescriptions and other merchandise in the store, as well as a reward program.

Anyway -- we've been laying low, sticking close to home. I've probably slept a total of 6 hours over the past two nights. I've been up with Nadija a lot during the night -- mostly just keeping an ear out for her raspy breathing. During those late night/early morning hours, I've gone through Season 2 of 30 Rock and Season 4 of The Closer on DVD, a case of Pepsi, and I don't know how many pots of coffee. I also got over 100 items listed in my
eBay store
(Hey, I've got to pay for these prescriptions somehow!) I suppose I should have been more productive -- like folding laundry. Come naptime during the day, I'm too exhausted to even think about vacuuming or folding laundry. My house right now looks like our governor should declare it as a disaster area. (Hmmm....can I qualify for federal funding?)
Today was the first day that Nani was actually feeling up to doing something. So I thought we'd spend some time out in the backyard painting. I hoped that the fresh air would do the girls some good. What I got was some good mountain air and an art lesson in simplicity.

As the control freak that I am, it was hard for me not to control what Nani was doing with the paint. I caught myself a few times wanting to say to her, "Don't you want to use that color" or "That's not what color elephants are." Finally, I had to silently tell myself to stop -- you're squashing her creativity. I just let it go and just waited to see what my little Picasso would create.


>

I asked her to paint some of the animals that we saw at the zoo the other day. Anyone want to take a guess at what she painted? To give you a little help - the top photo has 4 animals..... (I'll share the correct animals in my next blog!)




Then Nani moved on to paint a thunderstorm
And the grand finale was a painting of her family
(Notice the tiny little pigtail she painted on the top of Nudge's head? I also bet My Marine will be surprised to know he has purple hair too!)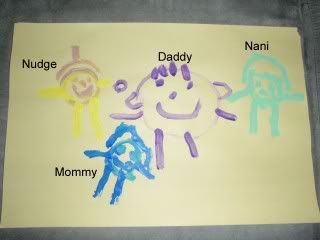 And yes -- mommy did get into the fun too!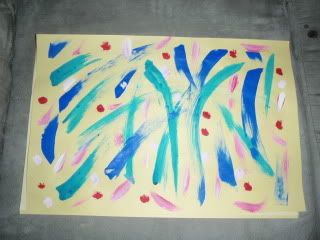 It's amazing how much you forget when you grow up and become an adult. It was nice to just let go....and not paint within the lines.... I don't know about you, but I think everyone should paint or color or play with playdough every once in awhile.

Even if you don't have kids, it's never too late to be one yourself!