>> Tuesday, July 14, 2009
I was going to wait and post this tomorrow, but I just couldn't help myself. This was too good not to share right away!!

As I was driving Nani to ballet class this morning, my mind started to wander off. This is a dangerous thing for me (and not because I could potentially run a red light) because this is the time where I sometimes come up with some of my blogging ideas. My mind swirls with "what if's" and "why is its?". This morning was one of those mornings.

Whatever happened to calling grandparents simply "Grandma" and "Grandpa"? Once upon a time, it was an honored thing to be called "Grandma" or "Grandpa". It marked yet another phase in your long, well-lived life. Grandparents rejoiced when they received the notification of their first grandchild -- proudly announcing to the ladies at bingo that my son/daughter has finally made me a "Grandma!"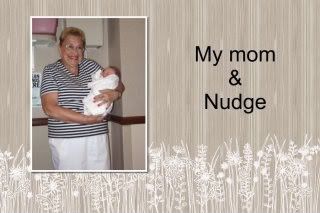 These days, things have changed. Being called a grandma has some negative associations -- old ladies with false teeth, grey hair, bifocals, house dresses and slippers. Being called Grandpa is associated with suspenders, grumpiness, wrap-around sunglasses, golf hats & plaid pants. (Sorry daddy -- if you're reading this, I know you don't wear plaid pants! Ha! Ha!). Grandparents around the world are rebelling against the age-old, time-honored "Grandma" and "Grandpa" in favor of more hip, age-defying monikers.

Now, there are still a few clinging to tradition, like my parents who are lovingly called "Bubbe" and "Grandpap"....although Nani used to call my dad "Bock-Bock" (like the sound a chicken makes) because she couldn't say "Grandpap". Deep down, I know my daddy LOVED it!


My in-laws are using "Nana" and "Pappy".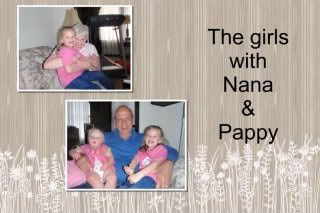 But there are those who insist on being called Meemaw, MeeMee, Maymay and Mawmaw. (E-I, E-I, O)

I've heard kids call their grandfathers Bumbo, Bumbum, Geegaw, and Boompa. (Sounds like the sounds that a one-man band makes walking down the street....remember Bert from Mary Poppins?)


But wait -- there's more! I decided that this called for some serious research. I stumbled upon
some great jewels out in cyberspace. Some are cute and some are.....well.....you just judge for yourself! (I have also added my own little commentaries....I just couldn't pass this stuff up!)


Auntie-Gramma: because I married my stepmother's brother and we bred. So now my stepmother is both an aunt and a grandma. (This is a little disturbing on SO many levels!)

Alvin and Butter-butt: My daughters started calling my father Alvin because they thought he had puffy cheeks like Alvin the singing chipmunk. They call my mother butter-butt because while they were camping, she backed into a trash basket and got a butter wrapper stuck on her butt. (Butter-butt must be a barrel of laughs come New Year's Eve!)

Banana and Papaya - We came up with this for our granddaughter when her other grandparents stole Mimi and Popi from us! (Not only do you have to worry about baby name stealing - we have to worry about grandparent name stealing too? Hmmm...maybe we should start calling my parents Avacado & Cantaloupe?)

Diva: I want the new grandkid to call me "Diva" because I think Diva sounds young & fun. I may not be young, but I'm fun! Grandma is old & gray, not young & fun.

Gaggy: We called out maternal grandfather,"Gaggy", because my sister could not pronounce "Grandpa". All the grandkids following said"Gaggy": He officially became "Mr. Gaggy " to the neighbors. (Seriously? Do you want your kids hanging out with "Mr. Gaggy" in your neighborhood?? This guy sounds like he should be on some kind of federal watch list...)

GoneGone: My grandma's name. I don't know why, but all the grandkids and great-grandkids called her that. (Grandpa must have been called ByeBye)

Grammbo: My brother-in-law nicknamed my mother Grammbo after she emerged from the woods after a solo backpacking trip, wearing a bandanna around her head. (And a deer head tucked under her arm....)


Grandma and Grandfather: My paternal grandparents have always been "Grandma and Grandfather". I'm not sure why, but my eldest cousin started calling them Grandma and Grandfather, and we've all done it, except one pair of cousins whose mother insisted that it should be "Grandmother and Grandfather" or "Grandma and Grandpa". I think her kids use Grandpa. (Anyone who uses the words "paternal" and "eldest" must not have much imagination...here's a family that sticks to tradition!)

Grandma Goddess: My granddaughter calls me Grandma Goddess, which doesn't please "the other women" (her other grandma). (Hmmm....must be why she now calls herself "Diva" -- see grandma post above)

Grandma Meow: My son began calling my mother-in-law, Grandma Meow since he couldn't say her first name, Mary. It's also funny because she owns multiple cats. (Getting treats from this Grandma is always a surprise! Is it kitty litter or trail mix?)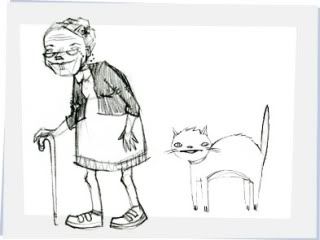 Grandma - San Diego and Grandma - Tucson We called our grandmas by their geographical locations since they could both be called grandma! (Let's hope we don't have to change it to Grandma Retirement Home)

Granny Grunt: This is the name we gave to our Great Grandmother, my Mother's grandmother. She was short and stout and every time she stood up or sat down, or did just about anything, she grunted. One of my cousin's teasingly called her this one time and it stuck. (Just about anything?? Hmmmm.....)

Kinky & Pa: My maternal grandparents were called Pa and Kinky! I think someone tried to call her by her name, Carina, and Kinky came out and stuck.She was known to our whole town as Kinky or Aunt Kinky. (I'm seriously not going to touch this one with a 10-foot pole.....not even the one that's probably in Kinky's bedroom!)




Lolli & Pop: My Mother-in-law chose the following names for herself and my Father-in-Law to be called by their grandchildren: She is: Lolli He is: Pop Get it? Lolli-Pop.... Just makes me roll my eyes every time I think about it!!! (Ba-dum-dum)

In the end, no matter what your children call their grandparents, they will always be loved and cherished and will have memories to last a lifetime!