>> Saturday, August 21, 2010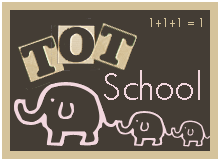 For more great TOT School ideas or to find out more about TOT School,
please visit
1+1+1=1
!
This site is SO AWESOME!
***************************************************
Earlier this week, while blog surfing for things to do with Nudgie while Nani was in Kindergarten, I found this AWESOME blog
1+1+1=1
. She has this great concept called
TOT School
and the more I read about it, the more I wanted to do something like this with Nudgie! It was perfect!
I got to work cleaning out the storage closet in our family room and the laundry room where I store a lot of my craft supplies, family games, and games for the girls. I ended up purging a LOT of stuff and I made a huge decision to sell a TON of my scrapbooking supplies. I just don't have the room to devote to it like I want to.
(If you or anyone you know is looking for some scrapping supplies CHEAP - let me know! I'll even ship!!)
Anyway - after I cleared up some space, I got busy organizing the supplies and area where we'll be working. Fortunately, I had a lot of the supplies already on hand, but I did have to supplement a few things.
At the Dollar Store, I found these cute silver letter trays, plastic tubs, primary color bowls for stacking and other activities, some mini ice tongs, tupperware bowls, utensils, bags of rice and beans.
At Hobby Lobby, their summer/VBS activities were 66% off, so I snagged this bag of primary color wooden crosses for counting, sorting, and color activities. I also got two bags of beads there at 50% off.
So, after labeling, cleaning, sorting, and organizing until about midnight last night - here's our little classroom!
(I don't have a separate room and this has always been our little play area, so I put the toys on one side and all the "school stuff" against the other wall. Still in the same area, but gives it it's own separate space!)
Tray area
(The shelving unit that you see is the top of a piece of furniture I got from my parents. There's a set of shelves and then a storage unit underneath with two doors. The storage unit is in our kitchen and the shelves were on top of the fridge. I didn't want to go out and buy new stuff and I found that this is just a perfect height for Nudgie!)
Reading corner
(We also have an old-school record player sitting on the top of the bookcase which Nudgie LOVES!)
Playdough, paints, brushes
Puzzles and art center (paper, coloring books, stamps, stickers)
Storage area in the laundry room
(Still working on this and you can see on the right my eBay stuff that's slowing taking over!)
And I just LOVE this! Such a perfect quote!
(I got this at Hobby Lobby for 90% off and it just filled that space there very nicely!
I also picked up three more that I'll be painting over and using them for sorting activity boxes!)
And there it is!! Our little TOT School corner!! I can't wait to get started and see what this angel absorbs!!
Nudgie
(25 months)