>> Sunday, September 12, 2010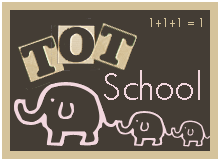 (Nudgie is 25 months old)
We really didn't do a lot of structured activities this week. My MIL has been in town. She came into town to watch the girls so that I could go to my MOPS planning retreat this past weekend. I've been wrapped up this past week with getting prepared for that. (I'm the Publicity Coordinator this year!)
So, overall, while Nani was in Kindergarten, mommy ran errands and Nudgie spent a lot of quality time with her Nana. I don't have pictures of these great moments, but I do know that Nudgie danced, colored (in both coloring books and on the walls!), sang, did puzzles, played outside, and watched Sesame Street and Little Einsteins.
We did do a fun activity on Monday though! Initially, I had planned to do a lesson a week on "All About Me" - mostly focusing on the body parts. I found "The Foot Book" at the Goodwill and had planned on incorporating that into the lesson. So on Monday morning, we went out into the back yard and read "The Foot Book."
When we finished the book, I put an old sheet on the grass in the back yard and put out some plates with paint. The girls were then told to step in the paint and run across the sheet -- painting with their feet. Nudgie was a little unsure at first, but then really got into it after a bit.
Nani, of course, enjoyed every moment of it - helping little sister along the way!
After the feet, we pulled out some paint sponges -- and somehow mommy became the canvas instead of the sheet!
And the finished product!!
The girls had a ball -- and mommy too!
Hopefully this week, we'll get back on schedule! We'll be adding a new activity on Fridays when I take Nudgie to MOPS with me! (Praying she'll go to childcare a little easier this year!)
Have a great week everyone!