>> Monday, October 18, 2010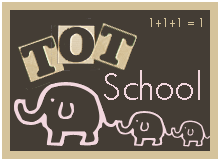 (Nudgie is 27 months old)
(To see what others are doing at Tot School, click on the "Tot School" above!)
I'm finding that during the week, we're getting in at least two structured days of Tot School. On Mondays, My Marine is off, so we spend the day as a family. Our structured Tot School days are turning out to be Tuesday and Wednesday. Thursdays we run errands usually. And on Fridays, Nudgie goes with me to MOPS. We usually do more on structured days, but other activities are sprinkled in throughout the week. I wish I could do every day, but it's just not happening right now.
So, this past week we focused on pumpkins and the letter "P".
I created a sensory tub for Nudgie using some silk leaves from the Dollar Tree, different sized pumpkins and acorns and pinecones.
I was pretty excited about it. Nudgie - not so much. She had no desire to put her hands in it at all. She's at that age where she doesn't like to get her hands dirty. (Nani was the same way.)
She finally started picking the leaves out and tried putting them on her face and blow them off.
For another activity, I pulled out a bunch of flowers and a basket where I put in some floral foam. Now THIS was a hit. Nani loved "arranging" her flowers, pulling them out and arranging all over again. The floral foam wasn't too soft, so she had to use those little finger muscles to try to push them in.
Right before lunch, we pulled out her Leap Frog Alphabet toy. She's not as interested in the sounds of the letters as she is with the alphabet song it plays. She loves playing it over and over singing right along.
For our story time, we read "Five Little Pumpkins". I found these cute little pumpkins at Michael's and added magnets to them. As we read the story, Nudgie would put the pumpkins on and then take them away.
And then right before dinner, I walked into the room to find that she pulled out her shapes file folder game and was just quietly playing away! (Thanks to
Confessions of a Homeschooler
for this game!)
The next day we focused on pumpkins.
I gave Nudgie 2 foam pumpkins (pack of 20+ on sale at Michael's) and some stickers and she went to town decorating them.
One thing I have discovered over the few weeks of doing Tot School is that Nudgie LOVES the dauber paints. It's one of her favorite things to do. So I always try to have some pages for her to paint! This time she did a pumpkin.
A little later, we did some number sorting with the little glass pumpkins and these awesome pumpkin number pages that I found. (I thought I saved the website to give credit for these, but I need to dig a little more to find it!)
We only did numbers 1 and 2 before Nudgie got bored and started dropping the pumpkins into this coffee creamer bottle. She loved putting them in and then shaking them all out.
****************************************************
Have a great week everyone!