>> Sunday, October 24, 2010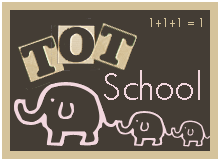 (Nudgie is 27 months old)
(To see what others are doing at Tot School, click on the "Tot School" above!)
We had a very light week this past week. Nudgie had a touch of a stomach bug which Mommy quickly caught. (And unfortunately, mommy didn't kick it quite as quickly as Nudgie did.)
As part of gearing up for Halloween, we spent an afternoon with big sister painting their pumpkins.
We baked cookies using the precut pumpkin cookie dough. I hated to see the ends go to waste, so we just rolled them into flat cookies and put some raisins in them.
We made silly pumpkin faces with the felt pumpkins and face parts I made out of felt.
For something a little more fun, I pulled out our Elephant Game (the one where you have to catch the butterflies). I'm not sure if I need to change the batteries, but the leaves wouldn't come through the elephant's trunk, so I just took it off and dumped a bunch of leaves in it, turned it on and watched the fun. Nudgie really liked this a lot.
Our new toy this week was this Rainbow Peg Play. I lined up the first row with some colored pegs and encouraged Nudgie to try to find the matches.
Other random play.....
Playing with shapes puzzles
Coloring
Playing dress up
The other day, we were actually feeling a bit better, so we took a drive through the mountains to find some changing trees. We came across this dirt road tucked into the mountains. It had a beautiful stream, rock formations, and little spots that were perfect for throwing stones into the stream. Here are some of my favorite photos from that afternoon:
Have a great week everyone!