>> Sunday, January 16, 2011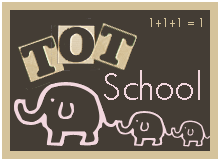 (Nudgie is 29 months old)
(To see what others are doing at Tot School, click on the "Tot School" above!)
**************************************
This past week here was pretty crazy. We had some snow earlier this week which resulted in a couple snow days. And even though Nani was home from school, I tried to incorporate some learning activities for her while I worked with Nudgie.
Nani doing some worksheets and working on her learning her sight words

While Nani was doing her schoolwork, Nudgie got busy playing with her Cheerios book. We used "snowballs" (little white pompoms) to fill in the empty spots. Nudgie found that she like covering everything with the pompoms - especially the bear's eyes. After a page, she felt that she needed to accessorize and decided to wear her pink headband. NOW she was ready to learn!
We played with our caterpillar puzzle - which she loves and played with over and over!
We stacked our elephant blocks.
We color matched with the toilet paper roll color match game. I added some colored wooden crosses a little later and she dropped them into the matching colored roll.
I love this picture of my two girls doing their activites. Nani is reading out loud from one of her sight word books. Nudgie is playing with her colored dot art set.

For lunch on our snow day, I made little snowmen sandwiches with snowballs (bananas). The eyes were chocolate chips, nose and mouth were cut up gummy worms, hat was some graham crackers, arms were pretzels, and the buttons were mini Oreos.


And then a little nap after lunch time.
After nap time, Nudgie and I worked on some puzzles while Daddy and Nani played some Wii. (And the snow still came down!)
The next day - it finally stopped snowing - but Nani was still home. We did some art work on the easel that Nudgie got from Santa.
After a while, Nani went to her room to have some "quiet time" with her V-Tech Reader that she got from Bubbe and Grandpap for Christmas. (She LOVES it!!!) So Nudgie had some time to play on her own -- WITHOUT having to share toys!
Mommy's favorite picture -- she LOVES rocking in the rocking chair
Playing with her bunny dollhouse
Playing her snowman color match game under the watchful eye of Zoja
****************************************************
Hope everyone has a great week!